Back to News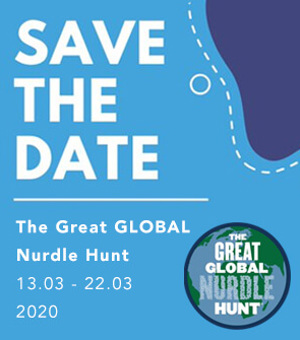 Never heard of a nurdle? Then you've probably never heard of The Great Global Nurdle Hunt. It's not a made up word, something you'd hear on Mork and Mindy, a bar of chocolate or a kid-on event. It's an exciting environmental exercise and could be coming to a beach near you in March.
Nurdle is one of those words that sit in the same group as microplastics and by definition is a very small pellet of plastic which serves as raw material in the manufacturing of plastic products.  Nurdles are usually bigger than microplastics but are just as nasty and according to the Marine Conservation Society, the rising amount of nurdles that are being found in the seas are a cause of great concern for a number of reasons:
Nurdles soak up pollutants and become toxic
Nurdles never disappear from the ocean completely; they just get smaller and smaller
Marine animals and seabirds mistake nurdles for food, allowing them to enter the food chain.
Optical Express are a member of the Marine Conservation Society and we are committed to reducing our reliance on single-use plastics in our organisation as well as educating all staff on how we can all cut back on plastic. One of the ways we've done this in 2020, is to encourage colleagues to sign the United Nations Environment Programme's Clean Seas Pledge.
We've also taken part in a beach clean near Bristol where the team picked up almost 300 pieces of marine litter which included a welly boot, syringes, polystyrene and nurdles.
If you've ever done a beach clean then you'll know how much of an enjoyable time can be spent doing your bit for your local community, whilst enjoying being in the great outdoors. The good news is we're all encouraged to tackle plastic pollution from nurdles as part of The Great Global Nurdle Hunt which runs from the 13th-22nd March.
This is the brainchild of a charitable organisation based in Scotland, called Fidra but this initiative, as the title suggests, is global. Fidra are working to reduce plastic waste and chemical pollution in our seas, on our beaches and in the wider environment. The Great Nurdle Hunt is their flagship project as they're working to end nurdle pollution.
The Great Global Nurdle Hunt outlines the challenges of this type of plastic pollution:
More than 220 marine species have been shown to ingest plastic debris.
In the UK, over 6,000 companies are part of the plastics industry; producing, importing and converting nurdles into plastic products.
Across Europe that figure rises to more than 60,000 companies, with plastics production reaching just over 60 million tonnes, in 2018.
Over 350 million tonnes of plastic was produced in 2018, weighing more than the total weight of the human population.
If you're interested in taking part, they provide all the tools and information so that anyone can support their initiatives. Their work is supported by a number of other environmental charities such as RSPB, John Muir Trust,  Keep Scotland Beautiful and the Marine Conservation Society.
Taking part in an event like this or a beach clean, is great for your well-being as you'll enjoy fresh air, exercise and a sense of achievement in doing something positive for the environment.
Corporate Social Responsibility