Back to News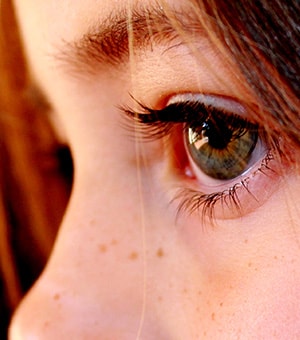 Halloween is just around the corner and if you're heading to a fancy dress party this year, you'll probably be feeling the pressure of finding a creative costume. If you have short-sight, long-sight or astigmatism and rely on glasses, finding the right Halloween outfit can be even more difficult.
Whilst it might be tempting to take the lazy option by painting on some false blood, popping in some creepy contact lenses and going as a zombie version of just about anything, it's important to make sure you consider the risks of 'dressing up' your eyes this Halloween—especially if you wear glasses.
This article aims to give you the facts you need to look after your eyes this Halloween, and to stay looking fearsome in the process.
Glasses: a challenge for costumes
There's no denying fancy dress events can often be a challenge if you wear glasses.
Masks and glasses were never destined to go together. There'll be no scary clown masks, no werewolf-looks and certainly no vampire styles either. Even if you do manage to wedge your glasses on over the mask, you immediately lose that scary edge, whereas trying to wear them underneath can make the mask sit off your face, ruining the look completely!
So masks are a no, how about face paint instead? Here's a dilemma. If you can find a style of face paint that isn't obscured by your glasses, you'll be lucky. Plus, once they're on, there's nothing worse than smudging a perfectly intricate design with your frames.
That said, glasses can often make a great accessory to a Halloween costume. For example if you are attempting Superman's alter ego Clark Kent or the boy wizard Harry Potter, specs simply complete the look. But more often than not, especially when it's not part of the outfit, they can be an unwanted addition.
Creepy contact lenses— don't get a nasty shock this Halloween
So, how can you solve the problem that glasses present when it comes to dressing up at Halloween? Well, the good news is, in a number of ways!
Special decorative contact lenses are popular when it comes to improving the 'horror' factor of your costumes, whilst getting rid of the hassle of glasses. These coloured contact lenses come in a variety of different colours and shapes so that you can get the perfect style eyes to match your costume.
There is a catch though— they need to be used carefully and sourced from a reputable stockist to avoid any damage to your eyes. Many people choose to buy cheap decorative cosmetic lenses from party shops on the high street or online, however the General Optical Council explain that legally, contact lenses should not be sold without an optometrist or other medical professional's presence and guidance. Many people also believe that these cheap disposable lenses don't require the same level of care and attention as prescription lenses as they only plan to wear them for occasions such as Halloween, but this is absolutely not the case.
When you're fitted with normal prescription lenses, your optometrist will make sure they are the right shape, fit and quality for you. Cheap, decorative lenses do not go through this process, meaning they're more likely to cause you irritation, discomfort or spark an infection that may end up compromising your vision. So if you were planning on buying them from a party shop in store or online, think again.
We would recommend that you stay clear of these cheap decorative contact lenses. Instead, if you want to ditch the glasses this Halloween, talk to your optician about trying prescription contact lenses. These will be custom-fit to the unique details of your eyes and your optician will be able to guide you through the process of cleaning and taking care of them.
Proper contact care
For those that do have prescription contact lenses and plan to wear them with their costume, here are some handy tips for keeping them clean, and your eyes healthy:
Make sure you wash your hands before and after touching your contact lenses
Always follow the instructions from your optometrist
Never share your contact lenses
Don't use your lenses if they look damaged
If you wear monthly lenses, make sure you use the appropriate cleaner for your lenses - your optician should be able to provide you with the right one.
Laser eye surgery— another option to free your vision
If you're fed up with your glasses and you aren't quite taken with the idea of using contact lenses, there is another possible alternative— laser eye surgery. This simple procedure uses incredibly precise, cool laser beams to gently reshape the curved window of your eye (known as your cornea), correcting your vision (potentially) for the long term. The surgery is very quick and most people notice a significant improvement in their vision within 24 hours. If you're thinking about a different way to correct your vision and eliminate the need for glasses, laser eye surgery could be the perfect option.
For more handy advice on taking care of your eyes, have a look at the rest of our blog.