Back to News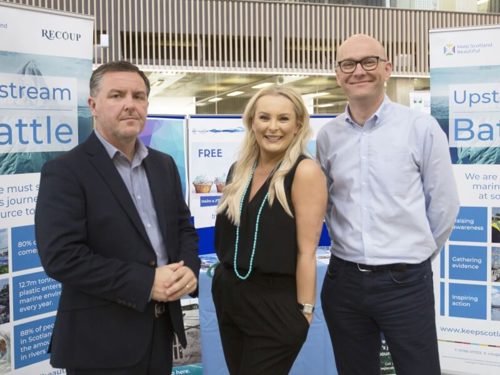 Protecting our coasts and waters from pollution is incredibly important. We've all heard about the microplastics problem in our oceans, but if you wear contact lenses, you may be adding to this environmental crisis without knowing it.
How? Through how you dispose of your lenses after you're finished with them.
CSR Manager at Optical Express, Heather Suttie, said, "The message we want to get across is 'don't flush your contact lenses down the sink or toilet'. It's something we seldom think about, but they're made of plastic and when we wash them away they add to ocean pollution."  
Recent Optical Express research found that more than 750 million contact lenses are being washed down the drain or thrown into landfill by people in the UK every year. The company is backing Scottish Water's Cycle Campaign, which urges people to only flush the 3Ps (pee, poo and toilet paper) down the loo. The campaign highlights the damage caused by items such as lenses, wipes and sanitary products being disposed of incorrectly, and Optical Express is keen to spread the message that contact lenses can be recycled in their clinics and stores instead.
Heather said, "If you use contact lenses every day for a lifetime, just imagine the amount of plastic you're throwing away. We want to help people dispose of their lenses properly to reduce their environmental impact and help marine life. That's why Optical Express is backing Scottish Water's Cycle Campaign, which highlights that we should think twice about what we throw down toilets or sinks. Ultimately, these things can end up on our coasts and in our waters and have a devastating effect."
Heather visited Scottish Water's Glasgow HQ last week to highlight the issue of contact lens disposal during an event for Keep Scotland Beautiful's Upstream Battle campaign, which is also tackling the issue of marine litter.
Ruaridh MacGregor, Corporate Affairs Manager at Scottish Water, said: "We can all play a part in reducing marine litter and protecting the sewer network. Scottish Water maintains 33,059 miles of sewer pipes across Scotland – that is a lot of pipe. The average waste water drain is around about 4 inches wide, the same size as a DVD, so we need to make sure they are shown some TLC to keep the cycle running smoothly.
"We respond to an average 95 reports of blocked drains and sewers every day. Around 80 per cent of these are entirely avoidable as they are caused by people putting the wrong things down their sinks and toilets. 
"Making sure people only flush the 3 Ps – pee, poo and toilet paper – down the loo can make a big difference in protecting our rivers, waterways and coasts. Things like contact lenses, wipes, sanitary products and cotton wool have no place down our sewers as they can cause blockages which can lead to bursts and ultimately pollution. We welcome initiatives, like the one being run by Optical Express, to remind people to dispose of items likes contact lenses responsibly."