Back to News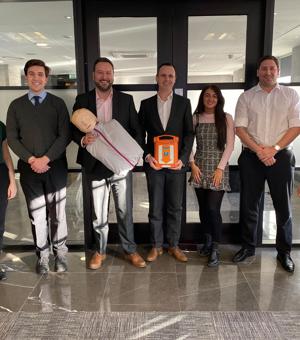 Almost 80 Optical Express employees in Glasgow and Cumbernauld have today been trained to perform life-saving CPR and been taught how to use a defibrillator.
The training is part of the global Restart a Heart Day initiative, which aims to improve the low numbers of people surviving an out-of-hospital cardiac arrest. Research has shown that almost a third (30%) of adults are unlikely to perform CPR if they saw someone suffer a cardiac arrest.
Led by the Resuscitation Council, in partnership with the British Heart Foundation, British Red Cross and St John Ambulance, the initiative encourages organisations to raise public awareness of cardiac arrests and increase the number of people trained in life-saving CPR. Now in its sixth year, the aim is to see over 200,000 people trained in life saving CPR across the UK.
Optical Express employees were given information on using a defibrillator and practised CPR on a specialist dummy during training sessions in Glasgow and Cumbernauld, taught by Mat McAvoy, Clinical Lead, Surgical Services at the company. Along with equipping them with lifesaving skills, the sessions were designed to help give staff the confidence to take action should they need to. 
 Mat McAvoy, Clinical Lead, Surgical Services at Optical Express, said:
"It's fantastic that so many of our Optical Express staff have taken part in CPR training to mark this year's Restart a Heart Day. I was hugely impressed by the skills and, crucially, the confidence they gained in performing CPR and using a defibrillator.
 "We're all aware of the existence of these techniques, but too many adults don't realise how vital they could be to a person's chances of survival. For every minute that passes when someone has a cardiac arrest, chances of survival fall by 10%. Anyone can make a difference if they know what to do, which is why having CPR training is one of the most important things you can do. Optical Express has always prioritised the safety of our patients. However, as a company, we are determined to demonstrate our commitment to keeping colleagues and our communities safe. With their new life-saving skills, these Optical Express staff will not only be better colleagues, but better friends, family members and neighbours too."
 Heather Suttie, Corporate Social Responsibility Manager at Optical Express, said:
 "I'm immensely proud that Optical Express has been involved in the fantastic Restart a Heart Day initiative. The response from our staff and from people all over the world has been superb, and clearly shows people's appetite to learn and practise CPR. I'd urge every organisation to offer their staff this life-saving training. There is no more vital skill than first aid."