Back to News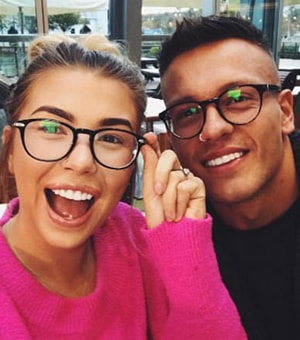 The selfie-loving couple, Alex Bowen and Olivia Buckland who shot to fame after starring in ITV's Love Island last summer, recently underwent laser eye surgery with Optical Express.
Fresh from their procedures, the couple shared their full surgery experience in an interview with the Mail Online, pre and post-surgery videos.
The pair who reside in Essex with their pet dog Reggie, underwent the surgery as part of their pre wedding preparations – the wedding is due to take place in September next year.
Before the procedure both stars expressed they were feeling apprehensive but excited at the thought of not having to worry about glasses and contacts again.
Talking about the procedure to the Mail Online, Olivia admitted it was much easier than she thought, taking a mere few minutes, and three weeks on she feels as good as new.
'My eyes feel amazing already - no dryness, no contacts and no more glasses,' Olivia said.
Alex added: 'It was so quick, I didn't feel a thing - just strange for a couple of minutes. It looks horrible but you're numb, so at the worst it's just uncomfortable for a moment - it's so worth it!'
The day after their procedure Optical Express joined the couple at their local park to test out their new eyesight and share their final thoughts on their Laser Eye Surgery experience.
'It's amazing, with the wedding coming up, we don't need to worry about contact lenses,' Olivia said.
Alex added: 'I'd recommended laser eye surgery to anyone who wants it. It's honestly unreal. I know it sounds cliché, but it really has changed our lives. It's been absolutely amazing'.
Find out about Alex and Olivia's full laser eye surgery experience in their video diary here: https://vimeo.com/247982488
Read Alex & Olivia's interview with the Mail Online here: http://www.dailymail.co.uk/tvshowbiz/article-5070349/Olivia-Buckland-Alex-Bowen-talk-babies